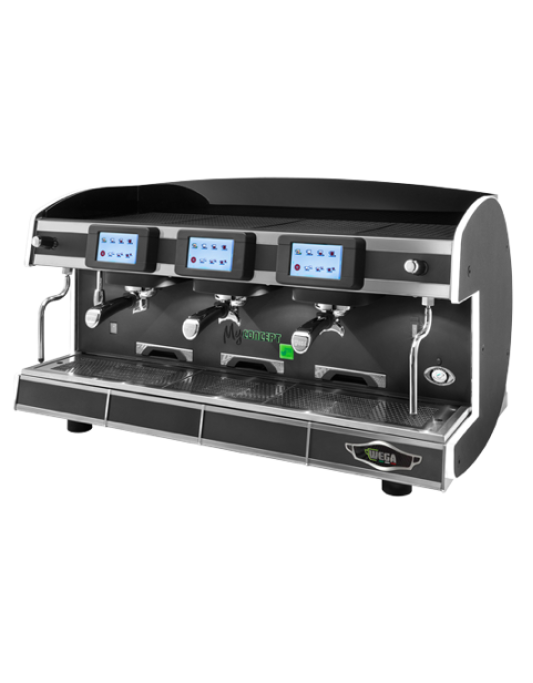 Wega MyConcept evd /3 Total Color
Automatic with volumetric dosage espresso coffee machine
Dimensions: 1040x600x590Η mm
Voltage / Watt: 230-400V / 5.600W
Groups: 3
Boiler: Hot water
Steam 13 lt, coffee 1,2 lt
Multi boiler technology (MTB)
User friendly 5'' capacitive screen with "mobile like" interface with detailed instruction of machine programming and using
Independent group technology
High groups for serving in take away cup or in espresso cup by using the stainless steel pull out grid. Spout tip to grid 122mm or 82mm
Programmable screen adaptable to business's or to barista's needs. / Slide show of your choice as you can load images, pictures, and logos e.t.c.
Select command signals from one to six selections. Ranging from a "single shot" barista manual set, to 4, 6 selections, as required by market's needs
On screen shot timer, temperature and pressure indication for any selection
Three operating programs: Standard, automatic SLS or ECO energy saving that analysis data from all cycles made and indicates on screen how many Watt saved.
Possibility to formulate a menu suitable to any business's needs , copy it in real time, and share it on a multiple set of My Concept machines, throughout the world
Send a messages to barista on machine's capacitive screen through internet
Remote machine control through Wi-Fi allowing managing remotely the machine (such as remote on/off, checking machine status, etc.)
Temperature controllers enhanced with high resolution PWM for a meticulous temperature control
Programmed water filter replacement
Weight: 117 Kg